When it comes to led ceiling lights, most people prefer flush mounts to pendant lights. Though they do the same work to illuminate the house, flush mount ceiling lights add extra beauty to your home decor.
Since it is not every day that you change light fixtures, you may find it hard to choose the best from a set of modern light fittings.
To save you from such stress, we will make out a list of the best flushmount lighting in the market right now, so you can shop from the best product.
what is a flush mount ceiling light?
A flush mount ceiling light is a dome-shaped ceiling light usually mounted very close, or flushed with the ceiling. They come varieties of styles and designs and can be used in rooms with lower ceilings, dining and other places. They include: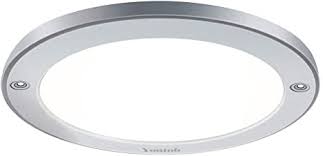 Below are the top five led light fittings to buy from.
This modern light is super bright and suitable for your bedroom, kitchen, hallway, dining, living room, and bathroom.
Reasons we recommend using the flush fitting light:
It is dazzling and has a wattage of 16w, 12 inches round ceiling light, 1800 lumens and 3000k warm white.
Has a dimmable setting to adjust the brightness of the ceiling lamp.
It is beautifully made to suit modern homes.
It has a long life span of about 50,000 hours.
Has excellent customer service.
For more information about the current price and customer reviews of this ceiling light, visit Amazon.
Youtob ceiling light is an ultra- ceiling light that produces 1200 lumens and 4000k temperature high bright light.
It is much brighter than most of the other ceiling lights of their size. It is easy to install and also perfect for hotels, living houses, and commercial areas.
Youtop ceiling light saves energy. Though a 15w led bulb, its brightness is equivalent to a traditional 100-watt fluorescent tube.
It has a life span of 30,000 hours, the best customer service, and an 18-month warranty.
For more details, current pricing, and customer review of this ceiling light, check here on Amazon.
The crystal chandelier flush mount light is an impressive addition if you are looking for a ceiling light to beautify your home.
It is clear, coupled with dimmable led lamp beads and anti-glare lampshades with the best light transmission.
It is suitable for the kitchen, bedroom, dining room, bathroom, and even your office. The flush mount light can use the home light control switch to control its brightness.
The flush mount ceiling light is made of bright glass with a K9 crystal bead, durable, and does not yellow.
It has a life span of 5 years and 30-day money-back if you don't like it.
For more details about the lights, such as current prices and customer reviews, visit Amazon.
This is a modern light fixture that is perfect for any home. It has a white alabaster glass shade, and a brushed nickel finish.
The Aspen Creative 63013-1 Flush Mount Light with White Alabaster Glass Shade will cover any space it's installed in.
The 11″ diameter of the fixture ensures enough light to fill any space, while the alabaster glass shade and brushed nickel finish create a timeless appeal that will look great in any decor.
For more details about the light fixture, current prices and customer reviews visit Amazon.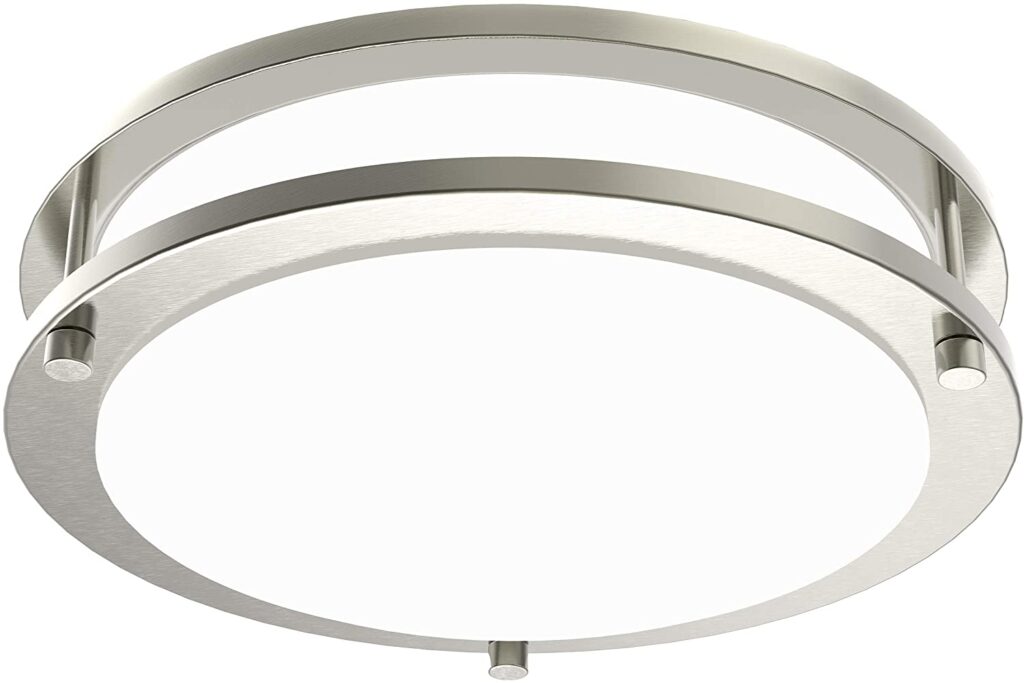 The Cloudy Bay ceiling light has a warm white tone that casts the perfect amount of light in any room.
The led ceiling lights have a CR190+ rating, which makes them produce more accurate lighting than other alternatives.
They are perfect for basements, stairwells, kitchens, closets, washrooms, and other places.
Though a 17-watt ceiling light, it is equivalent to 120W. Thus saves 80% of your electric bills.
It also comes with a 5-year warranty. For current pricing and customer reviews of this ceiling light, visit Amazon.
Benefits of flush mount modern lights in your home
Flush mount LED lights add a lot of benefits to our homes, and the beauty they add to our interior decor is second to none.
It is close to the ceiling, this prevents dust and bugs from entering the fixture, thus minimizing cleaning stress.
They are very easy to install and also come with halogen bulbs that save energy .
The light fixtures come as dimmable which allows you to adjust the light intensity.
Things to consider before buying a modern light fixtures
Before buying a new ceiling light, measure the height of your building to know the exact light fixture to fix.
If the ceiling is high, you can install any modern light of your choice, such as a semi-flush mount ceiling or chandelier. If it is low, install flush mount ceiling lights.
Know the required wattage of the room. You can check that by multiplying the square footage of your room by 1.5. To find the square footage of any room, multiply the length and width of the room.
For example, if a room is 12 feet long and 12 feet wide, the square footage will be 12 multiplied by 12 which is 144, multiply by 1.5 = 216 watts.
This means you should look for a light fixture that can provide 216 watts of illumination for the room. But since these watts can only exist on incandescent lighting, look for led light that can provide the same watt.
Consider the colour temperature of the bulb when determining the wattage. Living rooms, bedrooms, and hallways are better served with warm white range lights, while kitchens and bathrooms prefer cool white bulbs.
How to install flush mount light fixtures
Installing modern light is not a big deal for electricians, but if you are a homeowner who wishes to fix it yourself, follow this guide.
Method
Gather all the tools and materials required for the installation. The tools include a screwdriver wire stripper and a non-conductive ladder. While materials include led lights, electrician tape, wires and screws.
Switch off the circuit breaker that controls the branch circuit where the installation is taking place.
Remove the bracket lock to enable you to bring out the mounting bracket and the light fixture.
Check if the old bracket will fit the new light. If not, remove it from the junction box and install a new bracket that fits the light.
Wire the new ceiling light. Most fixtures carry 3 wires, the hot or live wire (black), neutral wire (white) and an earth wire (green).
Mount the base of the light fixture, fix your light bulb, and cover it.
That's it. Hope the guide was helpful? Reply to me in the comment section. 
Related articles