You might want to learn electrical work but don't know how to start.
Becoming an electrician requires a diploma qualification or its equivalent, and a four to five-year apprenticeship program to learn the job.
A successful apprentice receives a license after the training program, however, it is country-based. You can contact your state electrical licensing board or visit the National Electrical Contractors Association's website for details.
Work of electricians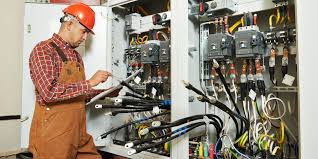 Electricians do a lot of work like installations, wiring, troubleshooting, and repair of electrical faults. Others include:
Installation of the electrical system in a new house
Inspection of electrical devices, such as circuit breakers and transformers
Troubleshooting electrical faults using testing tools
Read blueprints and electrical drawings
Repair and replacement of electrical equipment using hand and power tools
Direct and train apprentices on how to install and repair electrical wiring and equipment
Follow state and local building regulations as recommended by the National Electrical Code.
Carriers in electrical.
Apprentice Electrician
An apprentice electrician works under the supervision of a licensed electrician for about 4 to 5 years. He also takes approved classes during the job training.
After the electrical training, the apprentice takes a journeyman's license exam. If he excels, he becomes a journeyman electrician.
A journeyman electrician can read blueprints, wire a building, provide cost estimates, and also troubleshoot electrical faults.
Master electrician
A journeyman electrician works under a master electrician for at least two years to become a master electrician. Master electricians have licenses and are more experienced than journeymen.
They can work unsupervised, pull permits, and also guide other electricians. Master electricians train apprentices and also receive higher pay than journeymen.
Electrical contractor
An electrical contractor is a person or firm that specializes in construction work such as the installation and maintenance of electrical systems.
The contractor may not be an electrician but must have a license and insurance to cover his business. In most cases, they hire electricians to work for them.
Lineman electricians
These electricians work on transmission and distribution lines. They install, repair, and maintain high-powered electrical lines. A lineman electrician also called a groundsman can run and repair both underground and overhead cables.
They mostly work in energy companies, telecommunication, and utility companies.
Residential electricians
A residential electrician is a licensed person who works in residential buildings. It requires apprenticeship training and some practical work experience.
The work of a residential electrician includes
House wiring
Blueprint reading
Inspection of electrical components to make sure they are ok
Troubleshooting and repairs of an electrical system
Replacing bad and worn out materials
Make sure all his wiring follows the national electrical code recommendation.
Industrial electrician
Industrial electricians work in factories, plants, and industrial establishments. They install, repair, and maintain electrical components in industries.
Other duties of an industrial electrician include:
Installing and repairing transformers, meters, circuit breakers and others
Installation and maintenance of electrical wiring, outlets, conduits and other components
Working on alternators, generators, electrical motors, industrial storage batteries, and others.
Network cabling specialist
These electricians work in telecommunication and network-providing companies. They install, maintain, and upgrade communication systems for voice, data, and video transmission.
Their work includes
Performing system upgrades
Installation of wall adapters and telecommunication outlets
Installing CATV equipment
Routing cables through data centres and buildings.
Security and fire-alarm installer
These electricians specialize in the installation of security and fire alarm systems. Their work includes
Installation of video cameras and sensors on doors and windows
Installation and repair of doorbells and security systems
Installing electrical systems and components
Mounting and fastening control panels, etc.
Another career path for electricians I will not forget is commercial electricians. That's it, take out your time, study the training programs and choose the one that suits you.