A pex crimping tool is a tool used to join a pex pipe and its fitting. It is used to create a watertight seal during piping project by securing the crimp ring on your plastic pipe.
Mariaelectricals has a wide selection of Pex crimping tools and copper crimp rings at affordable prices. Crimping methods is one of the oldest and most reliable Pex connection methods for both contractors and homeowners.
it is easy, reliable and allows you to check the finished connection for accuracy with a go-no go gauge.
Tools in this category include single and dual size crimpers, pex crimp tool kits, and decrimpers.
Importance of using a crimping tool for pex fitting
Using a crimping tool for PEX fittings is important because it ensures a secure and reliable connection between the PEX tube
If a crimping tool is not used, the metal ring or clamp may not be compressed enough, resulting in a loose or insecure connection.
This can lead to leaks, which can cause water damage and other problems.
What are the best crimping tools for pex?
The best pex tools for piping projects include:
Types of pex crimp tools
Pex tubing tools fall into three categories they include:
Connectors (crimp and clamp).
Pipe cutters
Tools for securing tubing on a wooden surface (clip guns and staplers.)
Connectors
Crimper: This is the most popular tool for making pipe connections. It uses a copper ring to make a leak free joint.
it is compatible with brass fittings and other sizes ranging from 3/8″ to 1″, and all other pex tools except PEX-AL-PEX.
Clamp tool: This is like a crimping tool, the only difference is that it uses a stainless clinch instead of copper ring.
It is a universal tool that can work with all clamps and fittings ranging from size 3/8 to 1″
Cutters.
This helps an installer to make a clean and straight cut for a proper connection of the tubing to a fitting.
Pex cutters come in various sizes, both in light duty types for pipe size of 3/4″, and professional ratcheting types for pipes of 1-1/4 inches.
Foamboard Stapler Tools
This is used when pex tubing is installed in a concrete slab on top of EPS or XPSpolystyrene insulation.
It is often loaded with staples and when you push the tool handle; the installer drives the U-shaped staple, securing the pipe firmly.
Clip gun:
This is a pex to wood attachment tool similar to a stapler. It is available in both manual and pneumatic. Clip guns are available in different tube sizes ranging from 3/8″ to 3/4 inches.
How to use the pex tool
Using this connector is easy, just follow these steps.
Cut the pipe to your required size
Slide the crimper ring onto the pipe you cut
Fit the pipe to the tube and push it ON
Move the ring to the edge
Open the crimper by pulling both handles
Place it firmly on the ring and push both handles to crimp.
5 best pex plumbing tools for your project.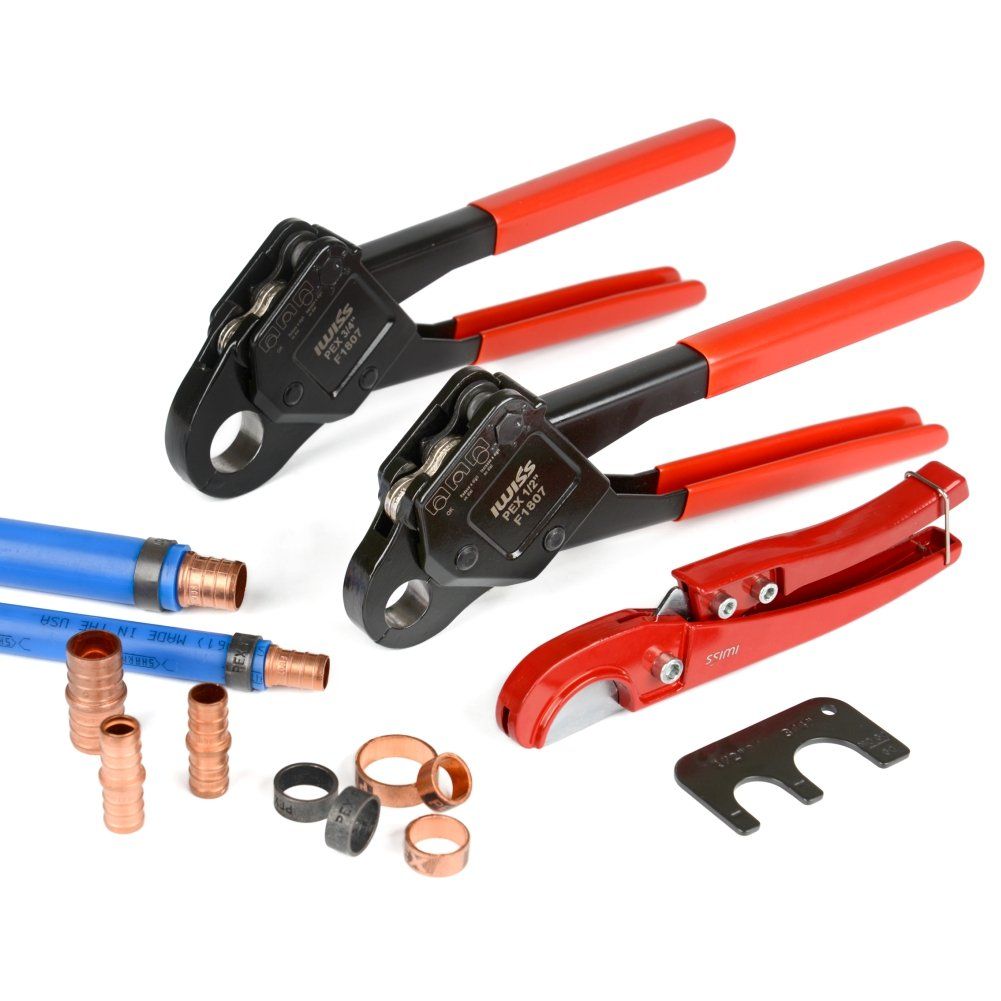 This is a professional tool you can use for any type of plumbing work. It has interchangeable jaw sets ranging from 3/8, 1/2, 3/4 to 1″ which can suit most jobs.
it is accurate and can limit your chances of making a water leak joint.
Reasons we recommend the IWISS F1807
It is easy to use
Comes with a Go/No-Go gauge which allows you to make an accurate, reliable crimp, preventing wasting of materials.
Has interchangeable jaw set to crimp different sizes of pipes
Quick and easy jaw change
Cost and time saving
Highly portable and easy to store.
Has a smaller handle which gives contractors easier access to maneuver tight spaces.
Durable
A few things we don't like about the pex tool
You cannot use it on pipes over one inch.
Sharkbite is another quality tool you can use for your piping work. Suitable for home and commercial use, it can also deliver a certified 200 PSI, and the fittings will withstand up to 200 degrees Fahrenheit.
Reasons why we pick sharkbite
It creates a clean, leak-free joint
Delivers a certified 200 PSI performance.
It is suitable for home and commercial use
Constructed with high-quality materials
Compatible with a range of fittings
Relatively cheap
Easy to use
Saves time.
Things we hate about the tool
You can only use it on 1/2, and 3/4 pipes and fittings.
This is a universal tool you can use to join pipes of various sizes ranging from 3/8 to 1-inch.
It is a factory setup tool that needs no adjustment or calibration before use. You can use IWISS with any ASTM F2098 stainless steel clamps from any manufacturer.
Has a long handle which makes the fitting work easier
It can also remove clinch clamps.
This is a newly designed tool to make cinch work easier. It comes with a ratcheting design and a self-release mechanism to ensure complete crimp.
You can use this cinch and remove tools with any ASTM F2098 stainless steel clamps to make pex connections ranging from 3/8″, 1/2″, 5/8″, 3/4″, and 1 inch.
The tool comes in a package containing 1 piece of cinch, remove tool, 1 piece of pex cutter, 20 pieces of half-inch clamps, and 10 pieces of 3/4-inch clamps.
This tool also comes with a 90-day money-back guarantee. To ensure your satisfaction else, you can return the tool.
Things to consider before buying a new pex tool
Before buying a new connector, there are certain things to consider. They include:
Crimp vs clamp
These days, it is rare to get one device that can crimp and cramp. It is therefore advisable that you make your choice before buying,
The crimp is a copper ring that slides over a joint to grip the tube. They are burlier than clamps, but are more prone to corrosion.
The clamps are stainless still bands with small pegs and holes. Clamping tools squeeze a knob till the peg lands in the correct hole, securing it on a barbed fitting inside the joint.
Stainless clamps are easier to install, hard rust but are thinner, and can easily bend or separate.
Length of the tool handle
The handle of a Pex tool can be long or short and your place of work determines the type to use.
If the pipe is in an area that requires a long-handled tool, go for it otherwise, buy a short-handled pex tool.
Easy to use
Before buying your desired tool, make sure it is easy to use and also has all the qualities you need